---
After Shropshire Organic Gardeners Potato Fest – Message from Frank Oldaker
29 March 2020
If you have been to a Potato Fest of ours you will have seen Matthew of "Brighter Blooms" behind his stand selling fruit trees, bushes, onions etc. What you probably don't know is that for a few years now he has supplied the seed potatoes to us which we sell. However, as he is based in the Lancashire he also holds Potato Days of his own in the North West.
Unfortunately some of these were cancelled and also shows which he would have been at are gone as well.
This means he has potatoes etc left over and sent the following message which we are more than happy to circulate and ask that you pass on to your members if you are able.
If you missed the Potato Day this year or perhaps you want to grow more in light of the current situation, Brighter Blooms (who supplies all the products for potato day) still has stocks of seed potatoes, onions sets and vegetable seeds. They are all listed online so they can be delivered straight to your door.
website is:- http://www.brighterblooms.co.uk

Also:

Just for information as well It looks like there are going to be some virtual Flower Shows:
Virtual Flower Show 25th & 26th April – Hosted by Dibleys, details on Facebook
RHS Chelsea Flower Show 19th-23rd May details to be found on the RHS website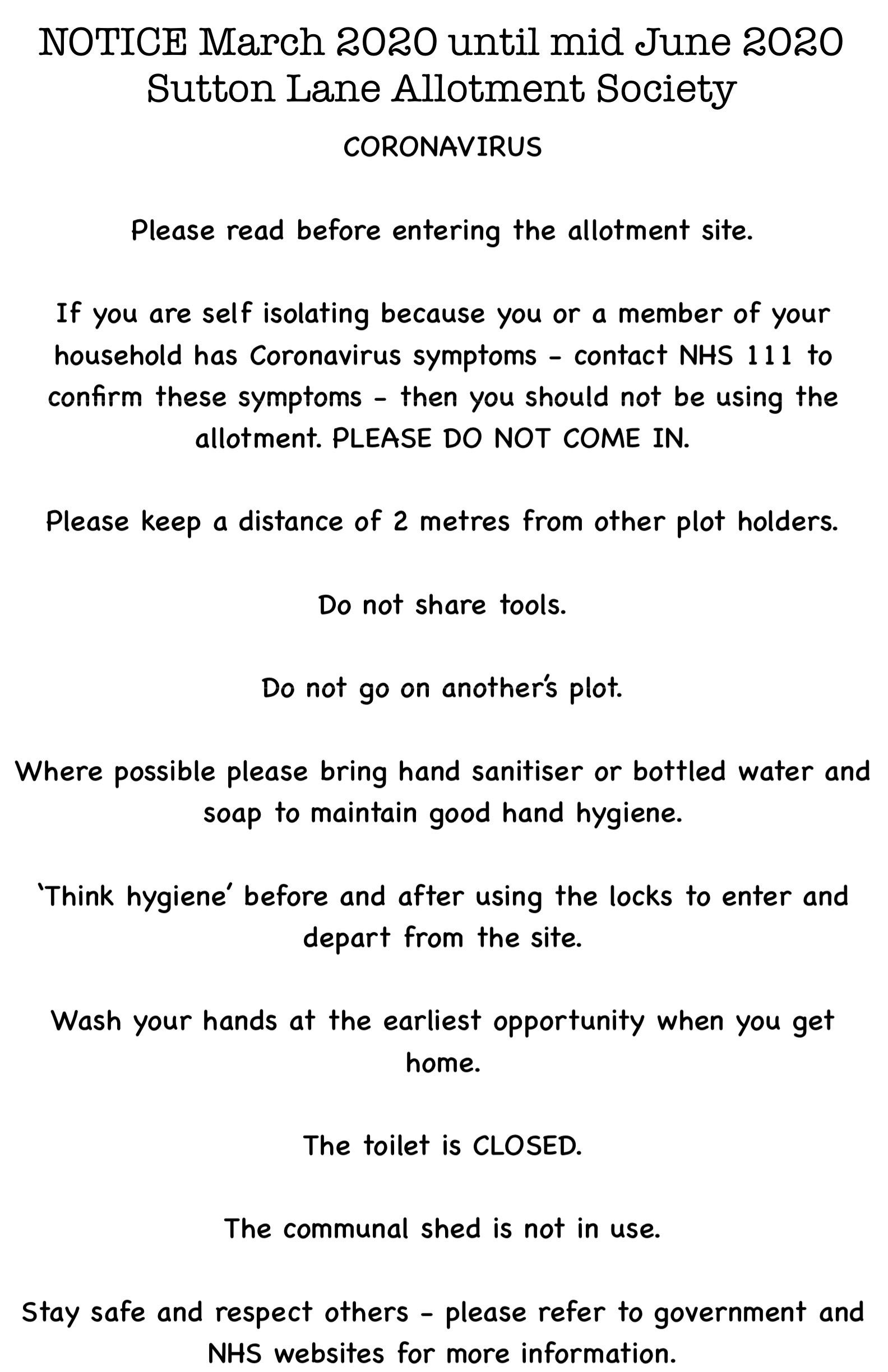 SUTTON LANE ALLOTMENT SOCIETY
URGENT INFORMATION
DUE TO THE CURRENT CORONOVIRUS PANDEMIC,
AND TO ENSURE THE SAFETY OF OUR MEMBERS
SLAS NEED TO MINIMISE THE RISK OF CROSS INFECTION.
REGRETTABLY SLAS COMMUNAL EQUIPMENT
WILL NOT BE AVAILABLE FOR USE UNTIL FURTHER NOTICE.
SHOULD ANYONE HAVE PERSONAL TOOLS, EQUIPMENT OR ITEMS
IN THE SHED AND WISH TO REMOVE THEM
PLEASE CONTACT
07956 450732, JOHN EVANS
GIVING A REASONABLE PERIOD OF NOTICE
TO ARRANGE REMOVAL.
PLEASE NOTE,
ONCE REMOVED, ITEMS CANNOT BE RETURNED TO THE SHED
FOR THE PRESENT TIME.
THESE ALTERNATIVE ARRANGEMENTS WILL BE IN PLACE
FOR AS SHORT A PERIOD OF TIME IDENTIFIED AS NECESSARY
AND TO ENSURE THE SAFETY OF OUR MEMBERS.
THANK YOU FOR YOUR SUPPORT IN THIS MATTER.
---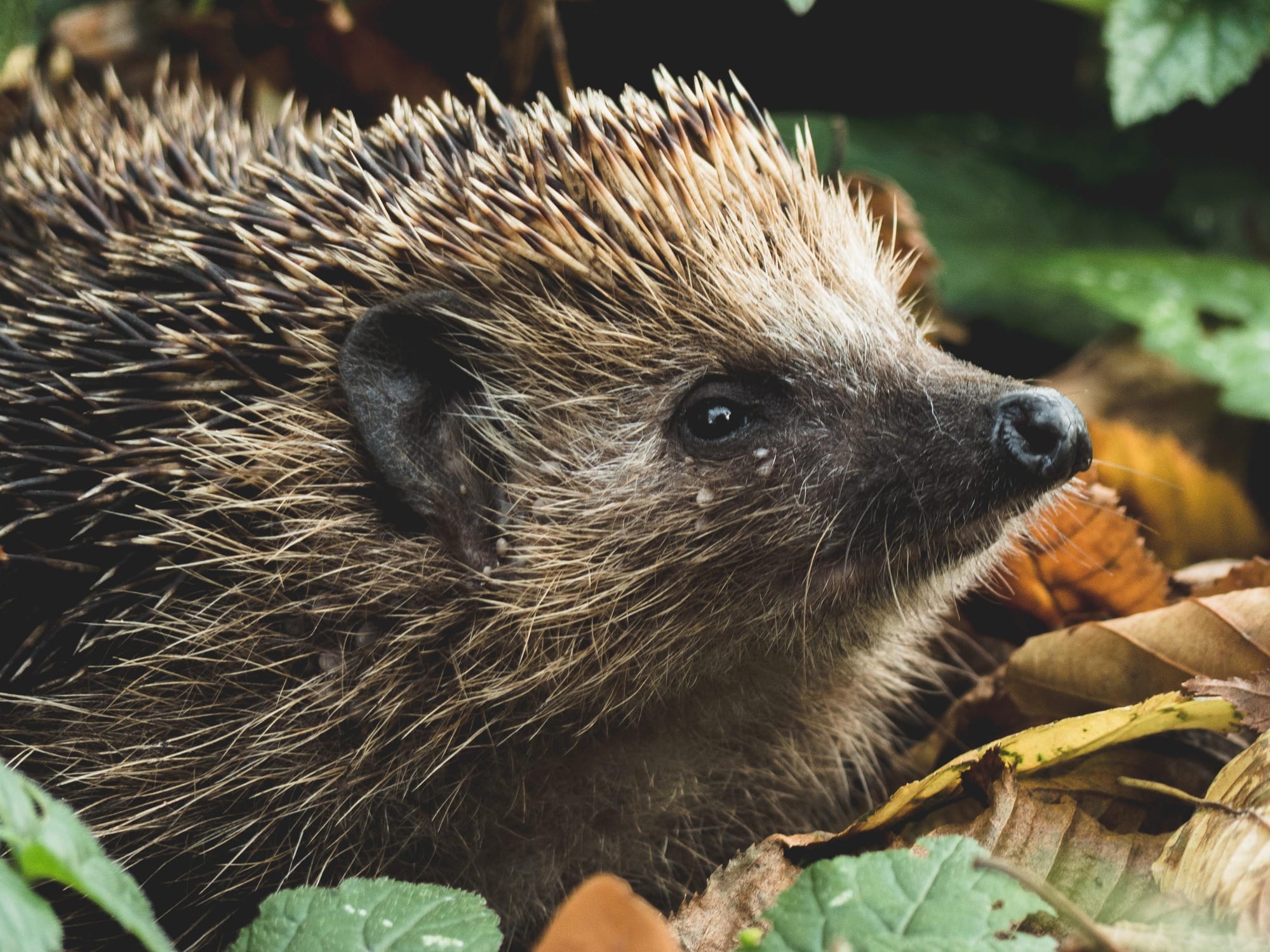 SUTTON LANE ALLOTMENT SOCIETY
The Committee of Sutton Lane Allotment Society have made the difficult decision to POSTPONE the Annual General Meeting.
The reason for this decision is due to the current extenuating circumstances surrounding the Coronavirus pandemic. When a revised date as been identified we will be in touch with the new details. Thank you for your co-operation in this matter.
In the event that the pandemic is downgraded in the near future, it is proposed that a large skip will be on site between Thursday 9th April 2020 and Tuesday 14th April 2020 to remove rubbish & debris from the site. WE WILL BE LOOKING FOR VOLUNTEERS TO ASSIST WITH THE CLEAN UP AND CUTTING BACK OF RUSSIAN VINE FROM THE BOUNDARY FENCE.
John Ingham Chair For and on behalf of Sutton Lane Allotment Society
---
THE SPRAYING OF PATHS IS NOT ALLOWED.
ANY SPRAYING OF PLOTS SHOULD BE IN CALM CONDITIONS AND NEIGHBOURING PLOT HOLDERS NOTIFIED PRIOR TO OPERATION. A LAMINATED NOTICE SHOULD BE DISPLAYED ON THE PLOT. DETAILS OF CHEMICAL USED AND THE DATE OF SPRAYING PLACED IN THE SPRAY BOOK LOCATED IN THE COMMUNITY SHED.
THANK YOU.
---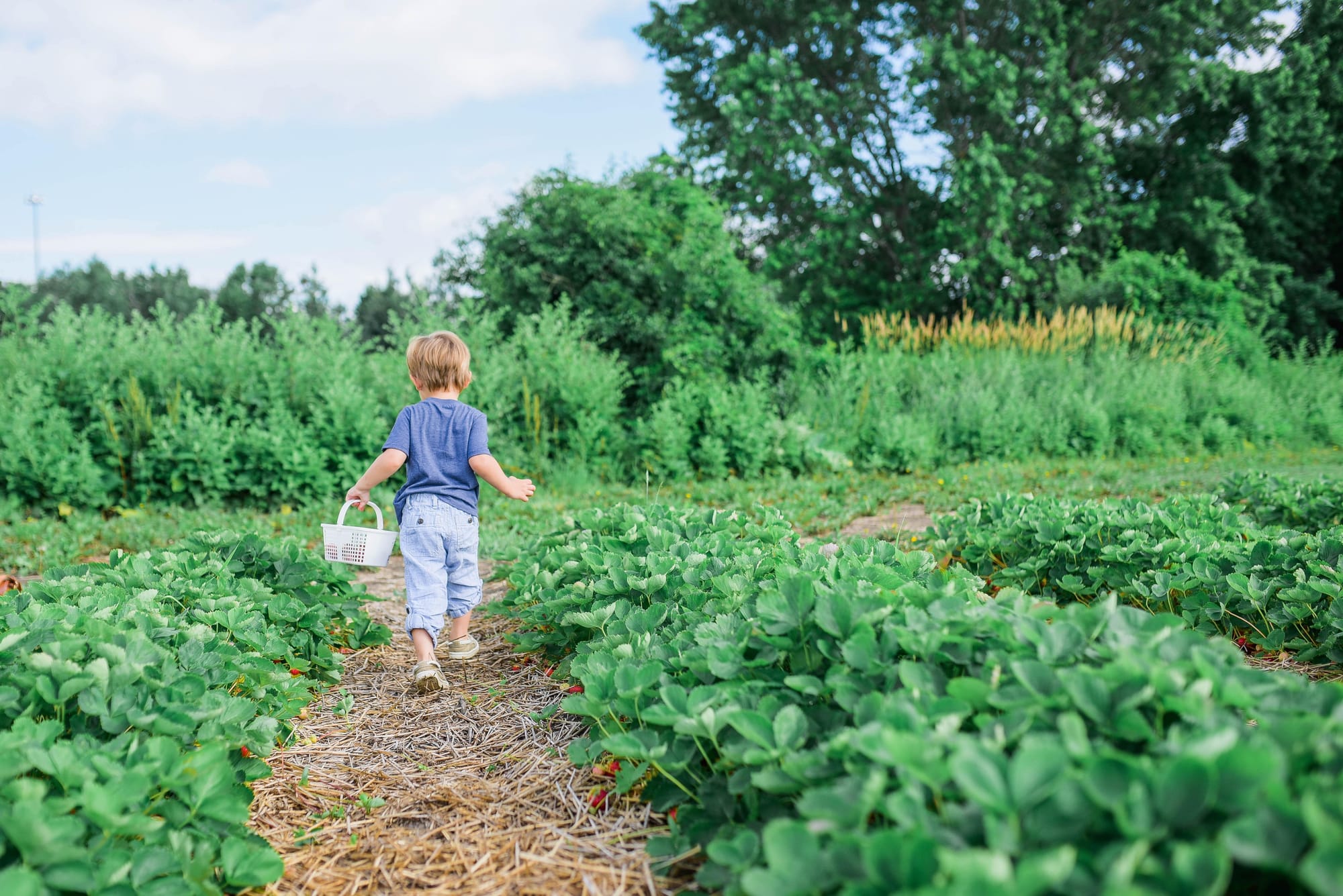 SUTTON LANE ALLOTMENT SOCIETY
NOTICE TO MEMBERS
USE OF ROTAVATOR
The Society has recently acquired a rotavator for Members' use. A logbook is located near the Rotavator situated in the shed which should be filled in each time the machine is to be used.
The rotavator has been generously donated by a Society member and SLAS have outlaid a sum of money to bring the machine into a good and efficient working order. The machine when new was valued at £942.00 and that will be the cost to replace same (insurance cover).
A few do's and don'ts need to be heeded to ensure the Society gets years of service from this machine.
Before use, all details must be entered into the logbook prior to taking the rotavator, this can be found behind the grid on the wall - please replace once used.
Petrol is not supplied by the Society and must be provided by the member using the machine.
Please ensure the rotavator is as clean as possible after use to avoid mud and dirt on the shed floor
Any issues must be reported to John Ingham or John Evans (or any member of the Committee in the event they cannot be reached)
Use of this machine is entirely at the member's own risk and the Society does not accept any liability/responsibility in the event of injury or harm to the member or any possessions/equipment.
Secretary
For & on behalf of SLAS Committee
---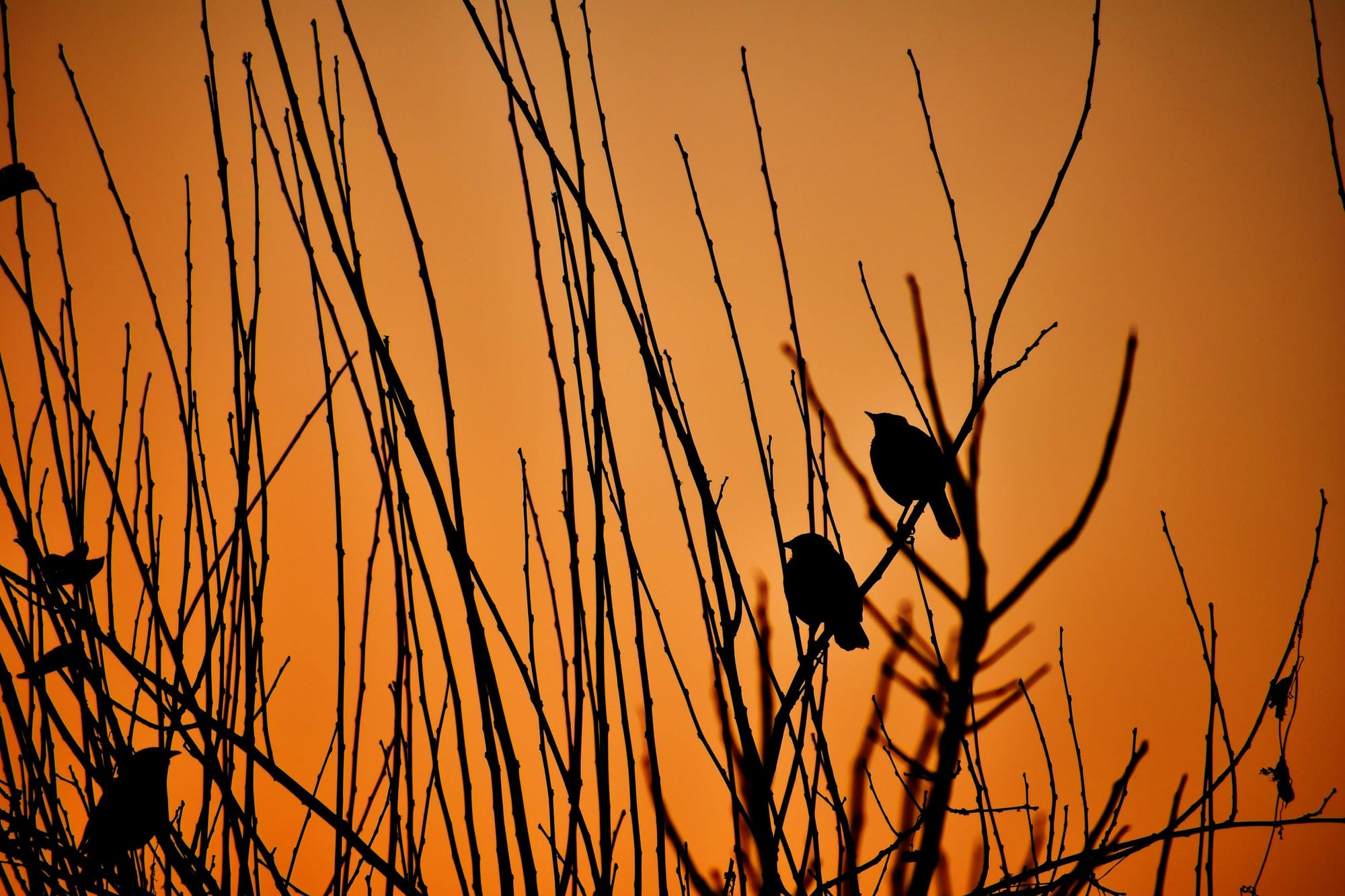 FOR SALE
8 FEET HIGH HAZEL POLES NEWLY HARVESTED FROM
COPPICE WOODLAND AT MERRINGTON
BUNDLE OF 12 FOR £15
01939 290400
---